This linkedin Downloader allows you to download any video you want from linkedin in all formats you want including MP3 and MP4. all this could be done in less than 30 seconds. All this could be done in less than 30 seconds, in high quality and with no fees. There is no need to sign up or sign up without cost. No pop-ups; submit the URL of a video to start downloading the video.
Introduction:
LinkedIn is a popular professional networking platform that offers a wealth of informative and engaging videos. If you've come across a valuable video on LinkedIn and want to save it for future reference or share it with your connections, you need a reliable LinkedIn Downloader. In this article, we introduce you to the LinkedIn Downloader from "www.onlinevideoconvert.net," a powerful tool that allows you to effortlessly download videos from LinkedIn. We'll guide you through the process of using the LinkedIn Downloader and explore its features and benefits.
Features of the Linkedin Downloader
Supported Platforms: The LinkedIn Downloader from "www.onlinevideoconvert.net" is compatible with various platforms, including desktop computers, laptops, and mobile devices. You can access the downloader using popular web browsers such as Google Chrome, Mozilla Firefox, Safari, and Microsoft Edge.
Video Quality Options: When using the LinkedIn Downloader, you have the option to choose the video quality before initiating the download. This feature allows you to select the resolution that best suits your needs, ensuring optimal viewing experience or conserving storage space on your device.
Download Speed: The LinkedIn Downloader is designed to provide fast and efficient download speeds, allowing you to save LinkedIn videos in a timely manner. The actual download speed may vary depending on your internet connection.
Website Security: OnlineVideoConvert prioritizes the security and privacy of its users. The website utilizes secure HTTPS protocols to ensure that your data and activities remain protected during the downloading process. You can use the LinkedIn Downloader with peace of mind.
Legal Considerations: It is important to note that when downloading videos from LinkedIn or any other platform, you should respect the copyright and terms of service of the content creator. Ensure that you have the necessary rights or permissions to download and use the videos for personal or educational purposes.
How to Use the LinkedIn Downloader:
Using the LinkedIn Downloader from "www.onlinevideoconvert.net" is a simple and straightforward process. Follow these steps to download LinkedIn videos effortlessly:
Step 1: Find the LinkedIn Video to Download
Visit the LinkedIn website or app and browse for the video you wish to download.
Step 2: Copy the Video URL
Once you've found the desired video, click on the "More" icon (three dots) on the post and select "Copy link to post" or "Copy link to video" from the options.
Step 3: Open OnlineVideoConvert
Step 4: Paste the URL
On the homepage of OnlineVideoConvert, you'll find a text box. Paste the copied LinkedIn video URL into this box.
Step 5: Start the Conversion
After pasting the URL, click on the "Convert" button to initiate the conversion process.
Step 6: Download the Video
Once the conversion is complete, a "Download" button will appear. Click on it to save the LinkedIn video to your device.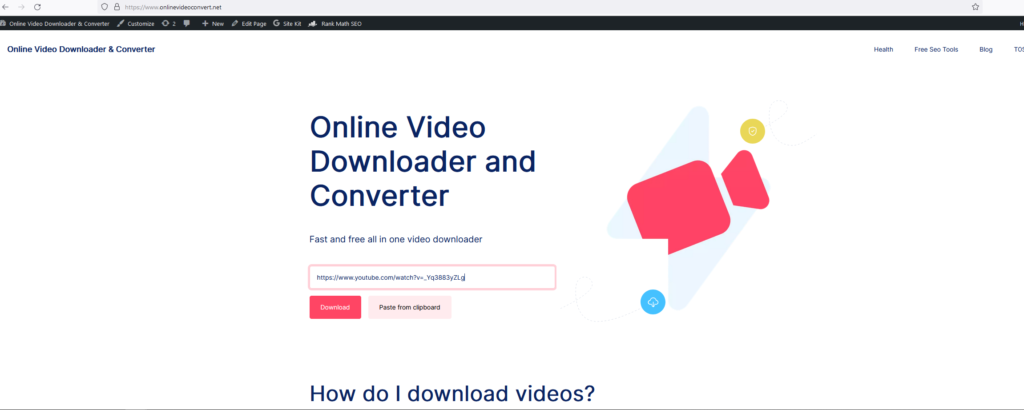 Benefits of Using the LinkedIn Downloader:
The LinkedIn Downloader offers several advantages for users who want to save and share LinkedIn videos:
Offline Viewing: With the LinkedIn Downloader, you can download LinkedIn videos and watch them offline at your convenience. This is especially useful when you have limited internet access or want to view the videos at a later time.
Sharing Opportunities: The downloaded LinkedIn videos can be easily shared with your connections or other social media platforms. You can share valuable content with your professional network, colleagues, or friends, fostering knowledge exchange and collaboration.
Convenient Access: By saving LinkedIn videos using the downloader, you have quick access to the videos without the need to search for them again. This allows you to refer back to important information, tutorials, or inspiring talks whenever you need them.
Conclusion:
The LinkedIn Downloader from "www.onlinevideoconvert.net" provides a seamless solution for downloading and enjoying videos from LinkedIn. With its user-friendly interface and straightforward process, you can effortlessly save LinkedIn videos for offline viewing and easily share them with your connections. Start using the LinkedIn Downloader today to make the most of the valuable video content available on LinkedIn.