This Periscope Downloader allows you to download any video you want from Periscope in all formats you want including MP3 and MP4. all this could be done in less than 30 seconds. All this could be done in less than 30 seconds, in high quality and with no fees. There is no need to sign up or sign up without cost. No pop-ups; submit the URL of a video to start downloading the video.
Introduction
Periscope, a live video streaming platform, has gained immense popularity for its real-time interaction and engaging content. While Periscope provides an exciting live streaming experience, there is no native option to download videos for offline viewing. However, fret not, as the Periscope Downloader on OnlineVideoConvert.net comes to the rescue. This powerful tool allows you to save your favorite Periscope videos so you can watch them anytime, anywhere, even without an internet connection.
Why Use the Periscope Downloader
Easy to Use: The Periscope downloader on OnlineVideoConvert.net is designed with user-friendliness in mind. With a simple and intuitive interface, downloading Periscope videos becomes a breeze, even for those with limited technical knowledge.
High-Quality Downloads: OnlineVideoConvert.net ensures that the downloaded Periscope videos maintain their original quality. You can choose from various video formats and resolutions, including SD and HD, to suit your preferences and requirements.
Save for Offline Viewing: By using the Periscope downloader, you can save your favorite Periscope videos locally on your device. This feature is particularly beneficial when you want to watch content without an internet connection or while traveling.
Fast and Reliable: The Periscope downloader on OnlineVideoConvert.net is known for its speed and reliability. The conversion and download process is efficient, ensuring you get your desired videos promptly.
Wide Compatibility: The Periscope downloader is compatible with various devices and platforms, making it easy to download and watch Periscope videos on your smartphone, tablet, or computer.
Legal and Safe: OnlineVideoConvert.net is a legitimate platform that respects copyright laws and terms of service. Using the Periscope downloader ensures you stay within legal boundaries while enjoying your favorite videos.
How to Use the Periscope Downloader
Access OnlineVideoConvert.net: Open your preferred web browser and go to OnlineVideoConvert.net.
Locate the Periscope Downloader: Look for the Periscope downloader section or find it in the website's main menu.
Find the Periscope Video: Visit the Periscope app or website and search for the video you want to download.
Copy the Periscope Video URL: Once you have found the desired video, right-click on the video player and select "Copy video URL" or "Copy video link." Alternatively, copy the URL from the browser's address bar.
Paste the URL into the Periscope Downloader: Return to the Periscope downloader on OnlineVideoConvert.net and locate the designated input field for the video URL. Right-click and paste the copied Periscope video URL.
Select Download Options: Choose your preferred video format and resolution from the available options.
Initiate the Download: Click the "Convert" or "Download" button to begin the conversion and download process.
Download the Periscope Video: Once the conversion is complete, a download button or link will be provided. Click on it to save the Periscope video to your device.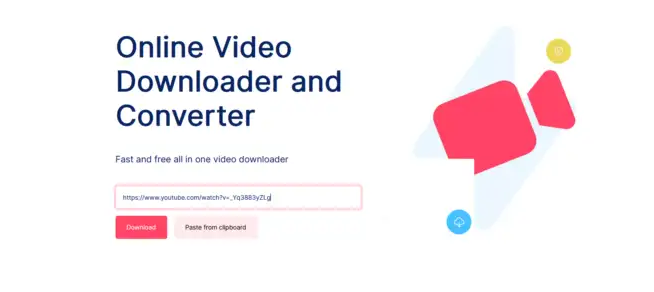 Other Related Downloaders
Apart from the Periscope downloader, OnlineVideoConvert.net offers downloaders for various social media platforms. Some of them include:
By utilizing these related downloaders, you can expand your video collection and enjoy content from various social media platforms with ease.
Conclusion
The Periscope downloader on OnlineVideoConvert.net provides a convenient and efficient way to save Periscope videos for offline viewing. With its easy-to-use interface, high-quality downloads, and wide compatibility, this tool is a must-have for Periscope enthusiasts. Enhance your video-watching experience and enjoy Periscope content anytime, anywhere with the Periscope downloader on OnlineVideoConvert.net.